Hi.
Let's say I were to view any topic in "Electronic Verve," a sub-section* of my forum devoted to gaming and computers. Above any given thread would be displayed this message:
Electronic Verve Games and computers. Marvel at the latest games and their discrete explosions. Unleash your inner nerd and talk of PC setups and page coding. Nod sagely with fellow web managers.
It also shows on the FORUMDISPLAY page, but I was wondering if I can just get rid of such messages on the SHOWTHREAD page?
Regards,
Kevin
*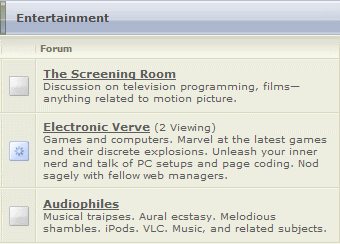 That's what I mean by sub-section. Sorry; not sure what term to use without getting a particular "forum" confused with the "forum" in general.