Hi,
I have a few issues testing our upgrade.
We have our Forum running on vb4 at the moment. Before upgrading to vb5 I wanted to test some things and adjust styles, etc. Therefore I installed vb5 in a seperate folder to test run it seperately while the old forum is running normal. I made a Backup of the mysql database of the vb4 Forum via phpmyadmin, created a new sperate database and imported the Backup of our database to test the correct migration.
I followed all the installation steps and everything worked correctly. The vb5 version itself is running propperly but the database wasn´t imported correctly as there is nothing on the site.
I edited correctly both configs and the htacces is correct too.
I had a look in the old vb4 config. There was used the table prefix "vb4_" So I inserted this prefix too in the vb5 config as I want to use the old database and not starting a new one. Should be correct ?
So I think I must be doing something wrong during the install wizard of vbulletin.
Immediately at the beginning of the installation of vbulletin I get the message that the connection to the database was successfull, so up to this point everything seems good.
After that I am asked to see the clearing options of the content in the database.
From now on I´m not really sure what to do to make a correct import of the database.
I get this message :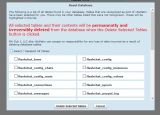 Automatically there are a few vb4 tables preselected.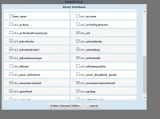 So I already tried to select all and delete all the selected tables, but after that the forum was empty and all the information lost.
So I created a new database with a new import of the untouched Backup and started again from the beginning. But this time I continued with the preselected options. I thought perhaps it is deleting just the vb4 Information which is not needed anymore. But after that the forum was again empty.
So I created again a new database and gave it a new try again. This time I deselected everything, so all the tables were kept. At this point I got immediately this message: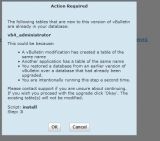 I can skip 1 or 2 of those Messages until the point the install wizard notices that some of the tables already exist and the installation is interrupted.
As you notice I´m not that good in the usage of mysql, but for normal usage and Maintenance of our Forum I always managed to get things done.
But now I´m a bit lost and I hope you can help me even if the solution is perhaps very simple.
Kind regards,
Nico