OK, I've spent the past week on-n-off trying to get my head around how the sections work and how to place Article's in a user friendly way. Now I'm not thick, I've been working with VB and web design since windows 95 and work as a Cisco Data design Eng but DAM I dont know if its lack of decent info or just that this system is a pain in the ass!
All I want to do is "create a Section and child Section" and have Articles that are posted in the "Child Section", also show up in the "Parent section"!
As you can see on the link bellow all of the videos show up in the main Section, then you can drill down to the child Section and see them there also.
It's the same as the example configuration that is installed when you upgrade or do a clean install.
Like this;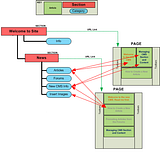 Now I understand the Grids, Widgets and layouts fine so just need to sort this posting Articles and then try and find a way of showing my Admins
Here is a map of some of my site and how I want to display the Articles;
Note
(-) This is a Child Section
(#) This is a category under the Section
News
- Club News
# Newsletter
- Hot Gossip
# Paddle Industry
# Products
Trips & Events
- WCC Trips
# Meeting Points
# Dates
- Holidays
# 2011
# France
So looking at above I would like to create an Article in "WCC Trips" under Category (Meeting Points) and also have it show in "Trips and Events"
Am I looking at this in the correct way, or am I getting this totally wrong?
Xray