Hi All
Well seems its official now -
Global Gold
has gone from 100% outstanding Support and Help to 100% diabolical and unacceptable (no support at all).
I have a VPS server with 10 slots and at present run two websites, one VBulletin with very light traffic and about a 50Mb database, the other site is static and has around 3Mb of files.
I've been having issues with my access to Plesk over the past 3/4 weeks, at the time I didn't have the opportunity to look into it fully but it seems I have now lost the operation of my main domain that runs my VBulletin Site and this is now 100% priority. I've tried requesting support from my ISP but they haven't been answering emails over the Christmas Holidays and the phone just rings all day long with no answer.
Plesk has been working fine for the past 3 years so its only the last 3/4/ weeks I've had issues. When I try to login to the control panel @ [My-Ip-Address]:8443/vz/cp/panel/plesk I get the following error;
Screen Cap: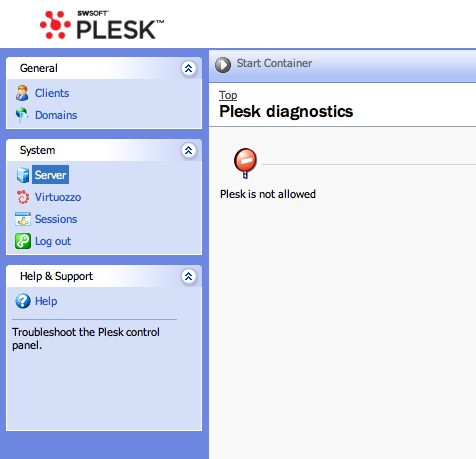 Over the past week I have been digging into the OS and hunting down large files I don't need and removing them. In total I removed around 500Mb of old Database dumps and so on. The issue I have is the container of Virtuozzo (I.E the Virtual Operating System) fills back up again within 10/15 minutes no matter how many files I delete?
Just for reference I'm running my VBulletin on the following;
Virtuozzo container
Plesk Version: psa-8.6.0-cos5.build86080722.00
OS Version: CentOS release 5.2 (Final)
Architecture:
Linux (My Domain) 2.6.18-028stab070.2 #1 SMP Tue Jul 6 14:34:09 MSD 2010 i686 i686 i386 GNU/Linux
T
his shows how quickly the disk is filling up when I delete files to create room.
Last login: Sun Dec 30 23:17:26 on ttys000
lees-imac:~ leeb$ ssh -l root [IP-Address-Removed]
[email protected]
[IP-Address-Removed]'s password:
Last login: Mon Dec 31 08:40:54 2012
from 94-194-94-206.zone8.bethere.co.uk
[
[email protected]
~]# df -h
Filesystem Size Used Avail Use% Mounted on
/dev/vzfs 5.0G 924M 218M 81% /
none 128M 4.0K 128M 1% /dev
/dev/vzfs 5.0G 924M 218M 81% /var/named/run-root/var/run/dbus
lees-imac:~ leeb$ ssh -l root 91.199.151.83
[email protected]
[IP-Address-Removed]'s password:
Last login: Mon Dec 31 09:29:27 2012
from 94-194-94-206.zone8.bethere.co.uk
[
[email protected]
~]# df -h
Filesystem Size Used Avail Use% Mounted on
/dev/vzfs 5.0G 924M 14M 99% /
none 128M 4.0K 128M 1% /dev
/dev/vzfs 5.0G 924M 14M 99% /var/named/run-root/var/run/dbus
[
[email protected]
~]#
lees-imac:~ leeb$ ssh -l root [IP-Address-Removed]
[email protected]
[IP-Address-Removed]'s password:
Last login: Mon Dec 31 10:03:54 2012
from 94-194-94-206.zone8.bethere.co.uk
[
[email protected]
~]# df -h
Filesystem Size Used Avail Use% Mounted on
/dev/vzfs 5.0G 924M 0 100% /
none 128M 4.0K 128M 1% /dev
/dev/vzfs 5.0G 924M 0 100% /var/named/run-root/var/run/dbus
[
[email protected]
~]#
Just for reference here's some of the Shell CMD's I have been looking into;
Hunting Down Large Files
[
[email protected]
~]# find /var/ -type f -size +5000k -exec ls -lh {} \; | awk '{ print $9 ": " $5 }'
Services
Main services Control Panel
Error log: /var/log/sw-cp-server/error_log
Access log: /usr/local/psa/admin/logs/httpsd_access_log
Panel log: /usr/local/psa/admin/logs/panel.log
service control:
Stop: /etc/init.d/psa stop Start: /etc/init.d/psa start Restart: /etc/init.d/psa restart
SMTP
Stop: /etc/init.d/postfix stop
Start: /etc/init.d/postfix start
Apache
Stop: /etc/init.d/httpd stop
Start: /etc/init.d/httpd start
MySQL
Stop: /etc/init.d/mysqld stop
Start: /etc/init.d/mysqld start
QMAIL
Stop: /etc/init.d/qmail stop
Start: /etc/init.d/qmail start