Introduction:
We both need your help in solving our issues as well as reading this whole thread, we greatly appreciate it to the greatest extent. Please don't be too negative on anything you don't fancy, etc..., but instead please give suggestions on how to improve something.
To start, hello everyone I am in the process of creating a new forum with a friend/personal trainer and it will be on the topic of bodybuilding. Now this bodybuilding forum is going to be really sweet and we have a lot of great ideas for it, as well the color scheme is going to be really cool. I think that the fact that a friend(who is a personal trainer) and other personal trainers as well are in on working on this is really awesome.
The name of the site and domain is:
Vast Bodybuilding
www.vastbodybuilding.com
Issue #1: The first dilemma we are in is that I personally own Talk Fitness, www.talkfitness.org, a fitness forum and the case is is that it isn't active at all, so we're trying to decide if we should move the license over to vastbodybuilding.com while at the same time keeping all the posts, etc... that were on Talk Fitness or if we should continue to work on Talk Fitness and make it better, push it to get more members. Our main purpose is to create a "bodybuilding" site so we're leaning to creating this bodybuilding forum. What are your thoughts on this?
Issue #2: We are asking ourselves if the site name/domain is cool and unique? Something that hasn't really been heard before and therefore people will go checkout since they may wonder what "Vast" means as well in our minds Vast Bodybuilding is a cool/unique name for a bodybuilding site/forum because Bodybuilding itself is so immense/huge/intense/boundless, for example achieving one's goals is so great, surpassing goals is so great, etc... you see the point we're getting at... So this is our thoughts on the name Vast Bodybuilding. As well if the name isn't working for you what would be a better name to put infront of "bodybuiding"??? ***Please see below the colors we are working with as well as the logo/slogans we have been come up with for Vast Bodybuilding, please remember this is all under the works *** What are your thoughts on this?
Issue #3: The dilemma we're in is whether or not we should install the forum under www.vastbodybuilding.com or www.vastbodybuilding.com

/forum

and have vbadvanced installed as the main index page. Or if we have it installed under /forum should we have www.vastbodybuilding.com just point to www.vastbodybuilding.com/forum.

Can you have it pointed anyways?
With regards to Issue #3
- ex. What is better for SEO purposes? What is better overall? Also the longer you have the domain to the forum the worst results you'll get in google for example, is this true?

What we're trying to achieve:
With this bodybuilding forum we are trying to achieve something which is to be unique and different than other "bodybuilding forums" out there. We don't want to be like all the other bodybuilding/fitness sites out their, for ex. Talk Fitness (the site I own), the colors, the categories, the way things are generally laid out, etc... their basically all the same like other "Fitness" sites. We want to put a message out their that Bodybuilding (even though many people hate it for example) is something that is so great and simply any bodybuilder for ex. who has achieved goals, succeeded, surpassed, and having their life changed from bodybuilding. As well we want to send the message out that taking up bodybuilding can help anyone/everyone in their general life when it comes to practically anything, learning goal setting, etc... from bodybuilding, nutrition from bodybuilding, etc... with all benefit one's life... Their are so many other bodybuilding forums out their that we have seen which really aren't getting this message out (you could somewhat say)... So yeah that's just a little bit of our mentality... LOL we hope this makes any sense at all.
******************
Logo/Slogan


Main Logo:
Slogan:
T-Shirt Front: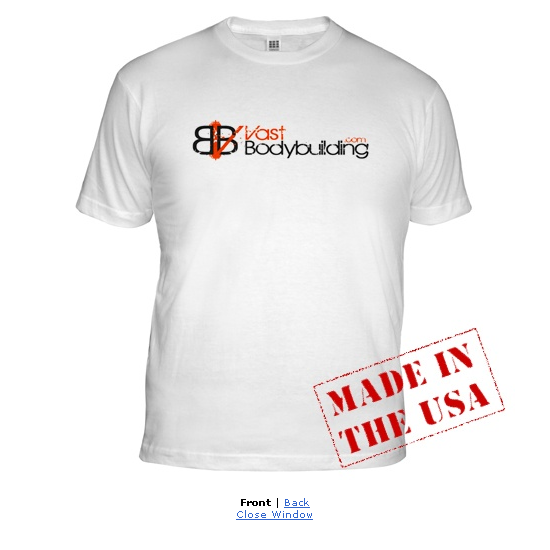 T-Shirt Back: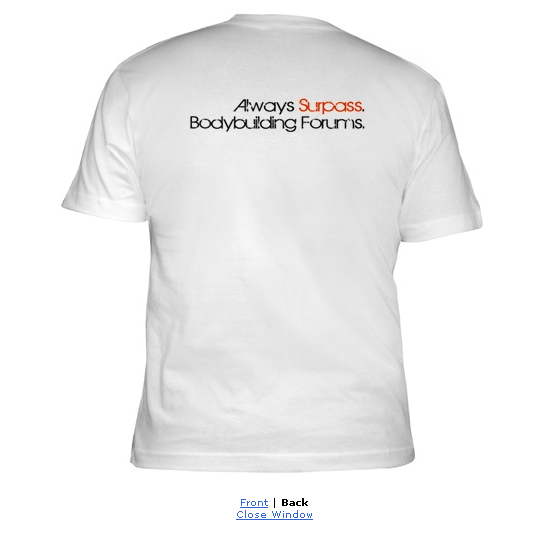 We appreciate all and any input on this. We also thank those for taking the time to read this thread and give some input into it. As well if you guys have more suggestions or what not to help us out we truly appreciate this a lot too