Here is a basic FAQ for vBulletin's mobile applications.
This FAQ will be updated.
Basics
What is it?
The product that will be available is an "app builder", it allows you to build a branded custom iPhone and Android app for your vBulletin website.
Can I try it out?
Sure.
- Apple
(
here
it is running on vBulletin 3.7)
And
here too
. - Android
What platforms are you going to support?
Apple devices running on iOS 3.1.3+ (older versions may work fine - no promises though
)
This means, iPad, iPod touch, iPhone 3 & 4
Android devices running version 1.6+
Are you creating an iPad specific version?
The iPhone app we have contains HD images, which means it looks/works fine on the iPad. This is in addition to the standard vBulletin skin working well in Safari on the iPad. We currently do not intend to create an iPad specific app.
What other platforms are you going to support?
Other platforms may be added too depending on market-share and their ability to support the basic vBulletin functionality.
I have a symbian/Blackberry/windows mobile, will you support me?
We have a
mobile skin
which will support a broader range of mobile devices. We may consider building applications for other devices as well in the future.
Will the apps be free for using on my site?
In a word, no.
Ok, how much will it be?
The price is $199 which covers the first years updates and support, and it is $99 to renew. (i.e. it costs you $199 up front, then $99 each 12 months beyond that).
This fee will cover the branded iPhone application, the branded Android application and future mobile applications that we elect to develop.
What else do I need?
You will need both an
iOS developer account
and
Android developer account
that can submit applications and access to a Mac computer to compile your iPhone app.
Will my site's users have to pay to download the app?
You are welcome to charge for the application to your end users if you so desire, or offer it for free - the choice is yours!
Why should I be interested in this?
Check this out.
When will it be available?
It is
now
Will the app's be offered in languages other than English
The app's will require a phrase pack (similar to the core vBulletin phrase pack - but it will be a different pack) to work with languages other than English. To build a phrase pack for your language, go
here
.
How will you be distributing it?
We are going to make both the iPhone and the Android apps available at the same time in a "mobile suite" (i.e. buy the suite, get both...). We currently do not have intentions of distributing either the iPhone, or the Android app seperately.
Will 1 app work across multiple vBulletin forums?
End users will need a separate app for each site.
What versions of vBulletin will it work with?
vB4 - 4.1.2+
vB3 - 3.7.5+ (will need to install a plugin that we will provide)
I don't drink lattes, nor do I own apple devices, what does dis dun thang look like?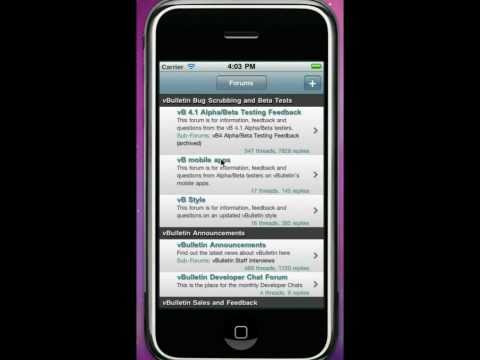 Does vBulletin at any point touch any of my data through this app?
No. Because this is an app for YOUR site, API's from your site will interface directly with the end users device, meaning no middle-man (unlike other options available) and much less possibility of security vulnerabilities.
vBulletin will have access to the number of downloads of each app.
Do you have documentation on it?
Yes
App Functionality
Is the app reflective of what I will be able to purchase.
Yes. We are still developing it, but that will be mostly constrained to bug fixing.
I have found a bug in the app!
Great! We would appreciate it if you could report it
here
Can I access CMS and Blogs from the app?
The app supports viewing, posting and editing in the forum, CMS and Blogs.
Can I moderate from the app?
Yes. All basic moderation functions are supported, move, copy, delete as spam etc.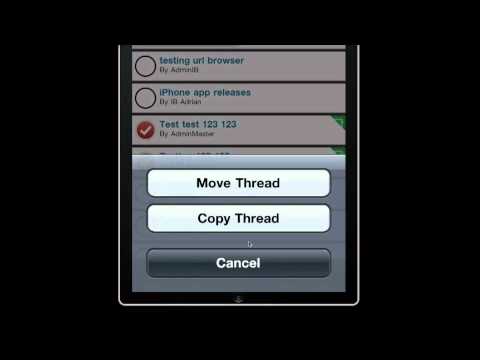 What are the main parts of the web product that the app cannot do?
The app does not provide support for admin level options (i.e. adding a new forum, customizing styles/templates etc.). It also does not include the Calendar or Social Groups.
Does it support "push notifications"?
The app was developed with push notifications in mind, however they are not currently in the product.
There have been a number of requests for this feature, and we anticipate that we will be able to incorporate it in the not-to-distant future (we are working on it at the moment).
What is some of the mobile specific functionality included in the app?
Some of the items include having a custom landing page designed for mobile that surfaces the latest content.
Incorporating the ability to take a photo and upload it as an attachment.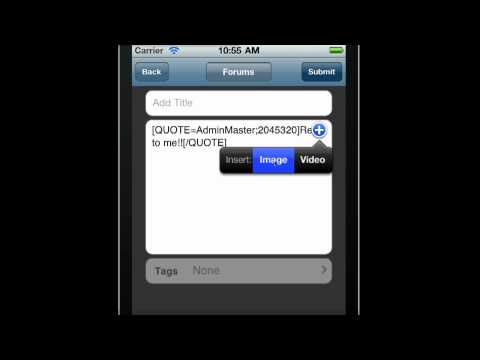 How does all this functionality work?
Like
this
.
Customization for my site
This app is great - but it is called vBulletin! What if I want it called apple-bobbing forums?
You can
We will build the app for your website, including a number of customization points, like name, color scheme etc.
Will I be able to run advertising through it?
Yes.
Great! How?
If you elect to use Advertising, we have integrated
AdWhirl
. This will enable you to run your own Mobile ads, or utilize other advertising providers like AdMob, iAds etc.
Does vBullet get any commission on advertising I might run? Or on sales of my app (if I charge for it)
No.
Do you get any statistics/information/data on advertising I might run?
Also a no.
Do I HAVE to run advertising on the app?
No, you don't. You will get a choice to sync your apps up to Adwhirl when you purchase the suite, or not. You can change this decision and re-publish the app at a later date to either add advertisements, or remove them if you so desire.
Can I test the app it on my site first?
You certainly can. Go
here
.
Other mobile related questions
I want to develop my own app.
Check out our
Mobile API documentation
. You are welcome to develop your own mobile applications and/or other addons from this API framework that is included in vBulletin 4.1.2+.
Mobile skin... what is the details?
Essentially it will be a very light-weight skin that will work with mobile devices. Our intention is to include a version of it in our core forum and suite product for no charge. The first version (forum only) will be in 4.1.2 - CMS and Blog integration will be added at a later point in time.