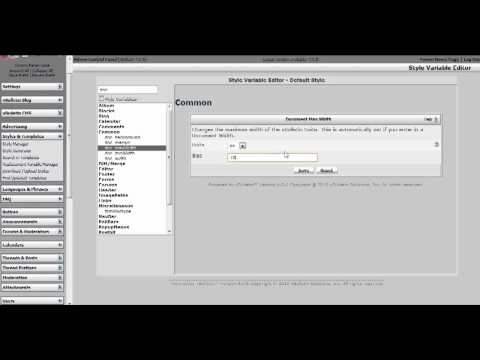 I wanted to do a short video tutorial on how to resize the general width of your vBulletin 4 Forum. Many vbulletin 4 themes that have come out are only available in "fluid style," meaning it takes up the whole computer screen. I want to show you how to quickly make it a "fixed style" that can be resized to your needs.
To get started, log in to your admin cp and click on "Styles and Templates" > "Style Manager"> and choose the style you want to edit. On the drop down field choose StyleVars.
In the search field, just type in "doc."
Afterwards you should see doc_maxwidth under the "Common" category. Click on it.
After clicking you'll see two options, "units" and "size." The units drop down field is basically a list of formatting rules that correlates to the size field. The size field is where you input the max number size of your style width.
As an example I will choose "px" which stand for pixels. In the size field, I will input 1050. Click save.
Before going back to check on your forum, we want to make sure that the style is centered aligned.
Go back to your stylevar and choose doc_margin.
On the left and right fields, input auto for both fields and Save.
Now go back to your forum and see if the width is right for your style. If not, you can go back to the doc_maxwidth stylevars and edit the size to any number you deem perfect for your forum.